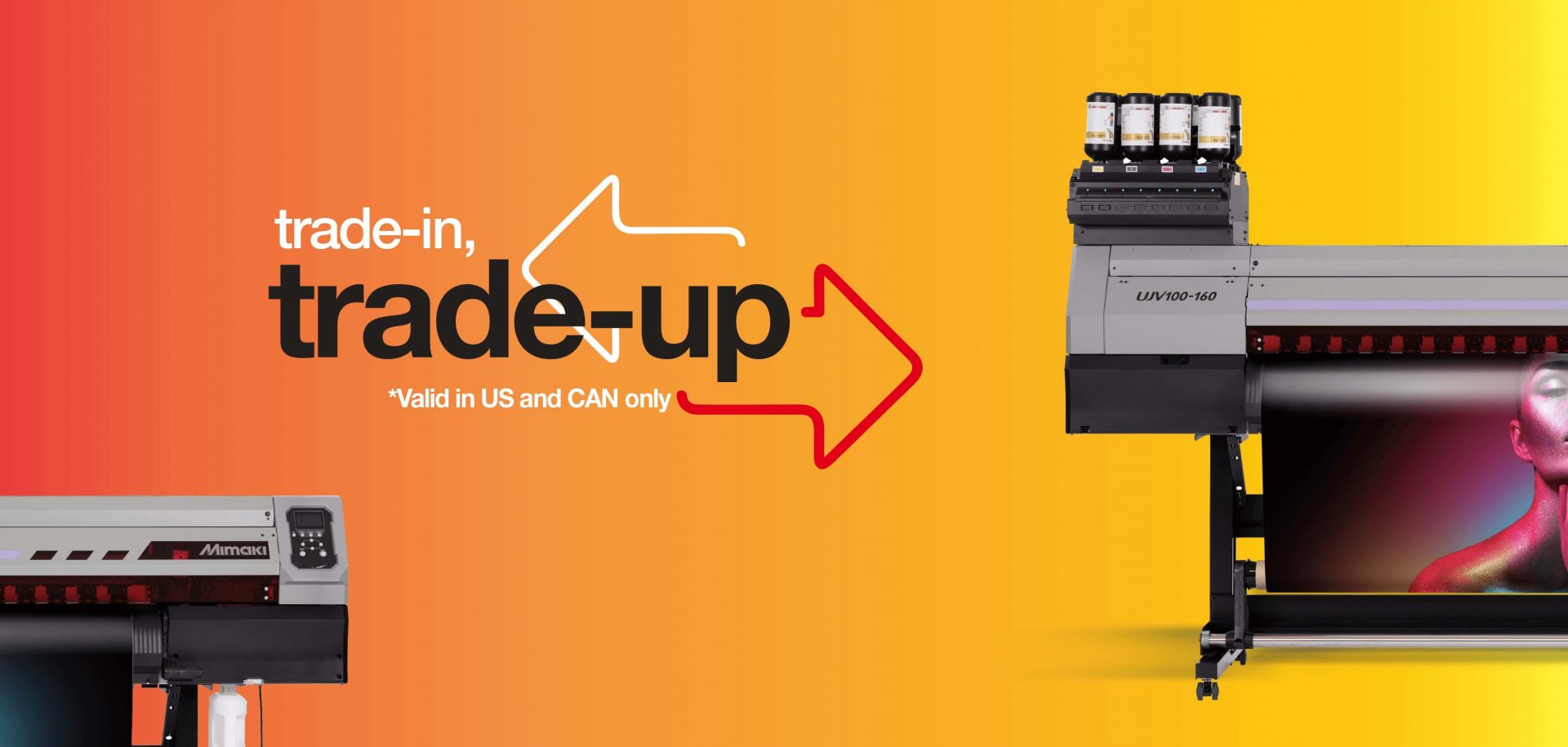 Promotion period over.
The purchase period for this promotion has expired. Please contact your area sales manager or usa.info@mimaki.com with any questions.
Regardless of brand or age,
Trade-in and trade-up to a Mimaki in 3 easy steps:

Purchase a new
Mimaki printer between
1/1/2022 - 3/31/2022.

Register for the promotion
at www.mimakiusa.com
by 4/18/2022.

Return the required trade
up items to Mimaki before
5/28/2022.
Approved registrants will receive
one of the following rebates based on the trade:
CUSTOMER REBATE
$1,000 USD / $950 CAN
For the trade-in of: Any 50" to 65" roll printer
When you trade up for:
CJV150-130 CJV150-160 CJV300-130Plus CJV300-160Plus UJV100-160 JV100-160 JV300-130Plus JV300-160Plus TS100-1600 TS55-1800 TX300P-1800MkII UCJV300-107 UCJV300-130 UCJV300-160
CUSTOMER REBATE
$2,000 USD / $1,900 CAN
For the trade-in of: Any 65" to 99" roll printer or flatbed printer smaller than 4 x 8 foot
When you trade up for:
UJF-3042MkII E UJF-6042MkII E UJF-7151 Plus II
CUSTOMER REBATE
$3,000 USD / $2,850 CAN
For the trade-in of: Any 100" or larger roll printer or flatbed printer 4 x 8 foot or larger
When you trade up for:
UJV55-320 JFX200-2513 JFX200-2513EX