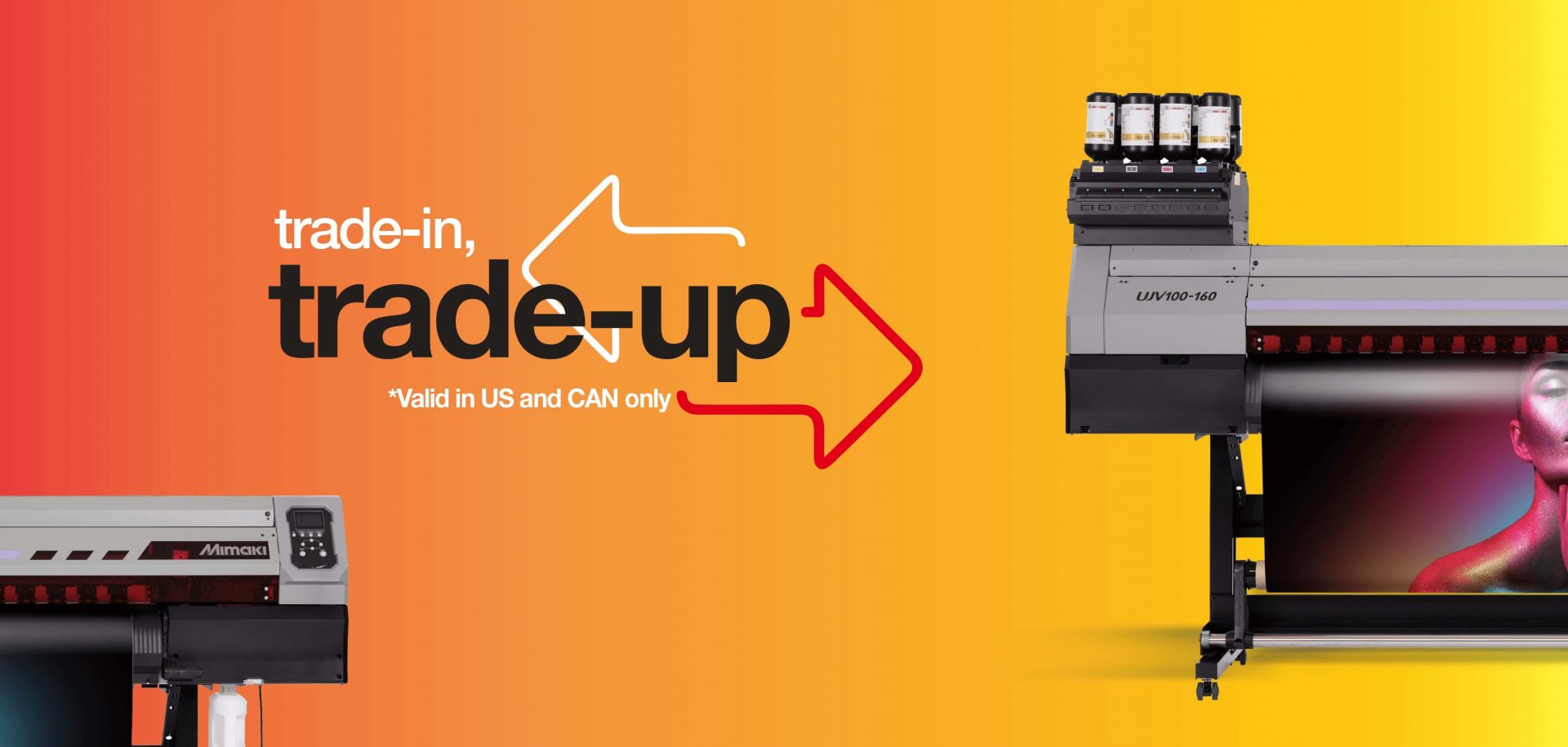 Get your business
moving forward
Investing in a new printer is one of the best ways to get your business moving forward. Often new equipment purchases are stalled due to budget or space. To make it easier to free up both, Mimaki will pay you for your old equipment.
Regardless of brand or age,
Trade-in and trade-up to a Mimaki in 3 easy steps:

Purchase a new
Mimaki printer between
1/1/2022 - 3/31/2022.

Register for the promotion
at www.mimakiusa.com
by 4/18/2022.

Return the required trade
up items to Mimaki before
5/28/2022.
Approved registrants will receive
one of the following rebates based on the trade:
CUSTOMER REBATE
$1,000 USD / $950 CAN
For the trade-in of: Any 50" to 65" roll printer
When you trade up for:
CJV150-130 CJV150-160 CJV300-130Plus CJV300-160Plus UJV100-160 JV100-160 JV300-130Plus JV300-160Plus TS100-1600 TS55-1800 TX300P-1800MkII UCJV300-107 UCJV300-130 UCJV300-160
CUSTOMER REBATE
$2,000 USD / $1,900 CAN
For the trade-in of: Any 65" to 99" roll printer or flatbed printer smaller than 4 x 8 foot
When you trade up for:
UJF-3042MkII E UJF-6042MkII E UJF-7151 Plus II
CUSTOMER REBATE
$3,000 USD / $2,850 CAN
For the trade-in of: Any 100" or larger roll printer or flatbed printer 4 x 8 foot or larger
When you trade up for:
UJV55-320 JFX200-2513 JFX200-2513EX