The finishing touch to decorating your home doesn't have to be expensive or even that complex. Decorating with wallpaper is preferred by many homeowners. It avoids the hassle of adding paint, including waiting for it to dry. It also allows you to customize your own unique print. You can transform your rooms within minutes and create any design or statement you want. While the possibilities are practically infinite, here are some creative ideas to start off with.
Unique Wallpaper Design Ideas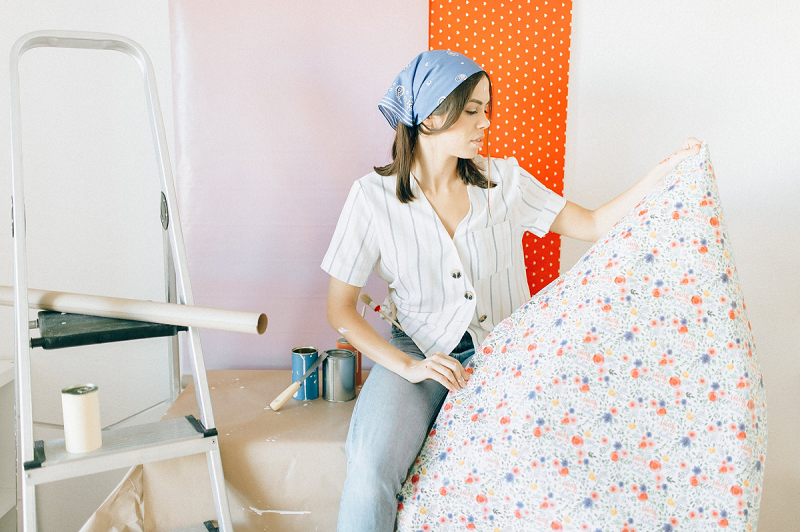 Wallpaper can allow you to add pattern, color, and texture to a surface. It doesn't only have to be added to walls; unique ways to use wallpaper include on:
Stair risers: Decorated risers can be lively and intriguing; you can focus on one pattern or create a cacophony of pattern and color up the stairway.
Ceilings: A patterned surface above can be mesmerizing and contribute to the impact of your interior design and the "fifth wall."
Doors: Accentuate architectural details by wallpapering door panels to add some pattern and color and to turn a simple door into a work of art.
Lampshades: Wallpaper the inside, outside, or both sides of the shade to create mood lighting. You can even salvage a damaged lampshade this way.
Furniture (decoupage): If you have a plain dresser or chest, you can add some flair with some textured wallpaper; an elaborate pattern isn't always necessary to revitalize an old piece of furniture.
If you're focusing on the walls, you don't even have to wallpaper the entire room. You can hang a print on an accent wall to create a focal point. The feature wall can create a tone for which you select furniture and other decor. If your eye is drawn to a centerpiece such as a fireplace or television set, add wallpaper behind it.
Other ideas include covering half the wall, on either the top or bottom. This can provide the look you're going for without being overwhelming. A popular method is to cover the top half with wallpaper and use paneling for the lower section.
On the other hand, you can use two different wallpapers—one type for the top and another for the bottom. Contrasting patterns, strong colors, or even more subtle tone-on-tone patterns can be very effective. Just make sure other patterns in the room complement the ones you use for the wallpapers.
Design Your Own Wallpaper
Unexpected patterns can liven up your home. You can use reproductions of fine art, simulate bricks or antique charts, or even recreate a scenic mural or botanical scene. If you can't find the perfect wallpaper, you can always design your own. Digital printing technology has made the process easy and affordable. You can quickly create wallpaper with a photograph, original artwork, or any type of computer-generated image you can find. With custom wallpaper, you can:
Choose your own image.
Match vintage wallpaper.
Hang it with wallpaper adhesive.
Share and sell your design online.
Print in exceptionally wide widths.
How to Create Wallpaper with Mimaki Printers
Mimaki printers are ideal for producing high-quality graphics on numerous types of media, and they can help in decorating with wallpaper too. The UJV100-160 is a professional-grade model that uses LED UV Curable inks. It can print fine art at up to 64 inches wide, at print speeds of up to 248 square feet per hour. The printer is available in four- and six-color options, which is great for creating personalized wallpaper designs. It has a Dot Adjustment System with automatic alignment for consistent quality and repeatability, and RasterLink7 software is included, which reduces RIP time by 25%.
The UJV55-320  Grand Format Printer is also good for wallpapering since it supports media widths of up to 126 inches, at print speeds up to 1,195 square feet per hour. The UJV55-320 also supports dual roll printing, doubling the output of narrower width rolls. Images are produced in photo-realistic quality at resolutions up to 1,200 dpi. The system uses a LED UV curable inks in a seven-color configuration.
For more custom designs on less traditional wallcovering media, such as PVC or reflective films, choose the JV100-160. This professional-grade model uses eco-solvent inks. While intended for outdoor signage, these products can yield impressive wallpaper designs as well. It can print up to 64 inches wide, at print speeds of up to 677 square feet per hour. The printer is available in four- and eight-color options, which is great for creating personalized graphic elements that can enhance any living or working environment. It has a Nozzle Check Unit with automatic recovery for consistent quality and repeatability, and RasterLink7 software is included.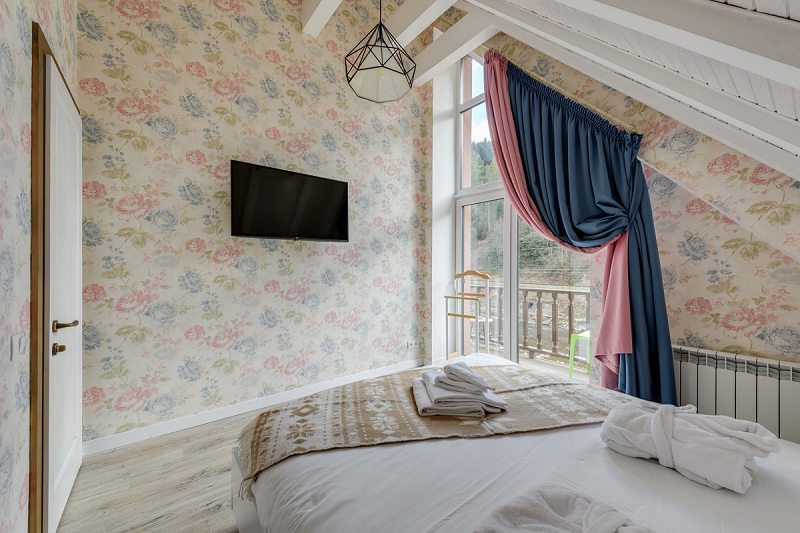 Start Designing Wallpaper with Mimaki
Mimaki specializes in large format, high-capacity printing solutions, including eco-solvent roll-to-roll, flatbed, textile, and other printers. These products can help you customize and create your own wallpaper. We can set you up with financing options and dealer support. To learn more about our products, informational resources, and promotions, continue browsing or contact us at 888-530-3988.