Inkjet printing affords many conveniences when working with fabric. You can print in precise detail at high production speeds and equipment, and materials are readily available for short-run production. Using a textile ink printer, however, is different from working with a standard paper printing system. To help you get started, here are some tips, tricks, and details on how the process works.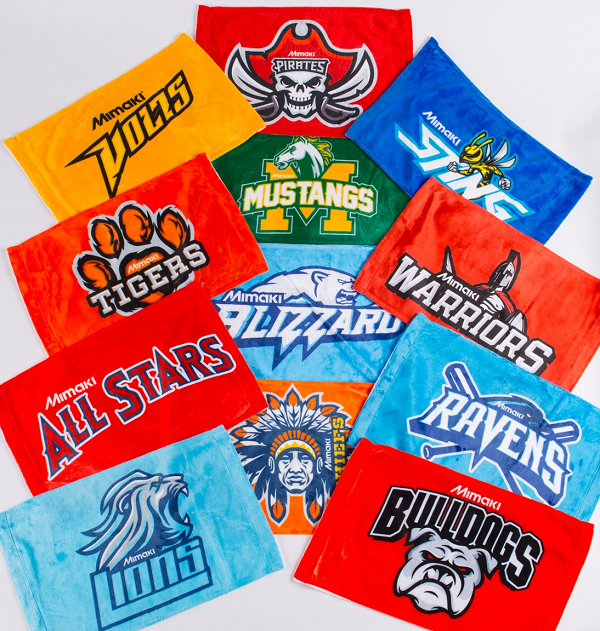 Tips for Printing on Textiles
Theoretically, most inkjet ink can be used on fabric. Solvent, UV curable, and water-based inks all have different capabilities. True fabric printing however, requires a machine with special ink and is capable of handling fabric. Although most inkjet ink can work, using specially formulated ink for the type of fabric will produce the best results.
These inks are water-resistant once set and can withstand washing. The most suitable inks include pigmented and dye-based inks. Pigmented inks are more fade resistant. Dye-based inks are typically more vibrant. There are two common methods for fabric printing: transfer and direct-to-fabric. To obtain the best results:
Direct-To-Fabric
Use a machine designed for direct-to-fabric printing or use a paper-backed fabric designed for printing.
Use pre-coated fabric designed to receive the ink.
Place the fabric on the printer; this is done the same way as loading a sheet of paper. How you load the sheet depends on the setting and configuration of the printer. The product manual should show the proper way to do so.
Do not touch or force the fabric out of the printer while printing is in progress; this will distort the image.
Transfer
Use a material that is designed to be printed and transferred.
The printing system applies ink to the material in tiny droplets, similar to how printing on paper works.
Press the print to the fabric to transfer the image and/or set the color. Depending on the process, there may be additional instructions.
If ironing a transfer, place a heat-resistant sheet between the iron and print. Iron with the temperature set to the hottest the fabric can tolerate without being scorched or burned.
Move the iron from side to side without keeping it still in any particular spot.
Types of Textile Printing
When the ink is sprayed directly onto a pre-cut roll of fabric, it's called Direct To Fabric (DTF) printing; modified printing technologies can be used to print on pre-sewn garments using Direct To Garment (DTG) printing. Transfer printing utilizes special materials to hold the ink temporarily or permanently and are intended to be transferred to the fabric. Solvent and UV-curable inks have materials that are intended to be transferred. However, the most common transfer process for textiles is dye sublimation.
In all cases, a fixation step is required. This typically requires a dry heat press but, depending on the ink, it could require a steaming process.
Textile printing is used with raw materials such as cotton, linen, and other natural fibers, as well as polyesters, nylon, and animal fibers like wool, silk, or cashmere. It's often used for clothing. However, a textile ink printer can be used for upholstery, rugs, napkins, and even furniture coverings.
When printing fabric with an inkjet printer, follow these basic steps:
Scan, upload, or select a photo online and save it to your computer.
Enhance the photo to brighten it, improve resolution and clarity, and crop the areas that you want printed on the fabric.
Edit your printer's properties to obtain the best photo setting, and then test print the image.
Recommended Textile Printers from Mimaki
Printing on textiles and apparel is generally not easy, but new products have come on the market to meet the needs of customers and businesses that are focused on personalized items. The demand for mass-produced products has declined. At the same time, customers expect shorter lead times. Fortunately, these demands can be met with these printing systems from Mimaki:
TS100-1600 Sublimation Printer
An entry-level machine capable of professional-grade, on-demand production, the TS100-1600 can print at up to 753 ft2/hour. It uses one-liter bottled ink to reduce running costs. A Nozzle Check Unit monitors performance and detects clogging automatically, while a Nozzle Recovery System (NRS) substitutes nozzles that become unproductive, preventing poor image quality and avoiding downtime.
A Dot Adjustment System has also been included. It automatically aligns to ensure that quality is consistent and results are repeatable, and it performs other adjustments that improve detail and avoid manual adjustments. RasterLink7 software is included, and the printer also supports TxLink4 for more advanced applications.
The sublimation inkjet printer offers print resolutions of 360, 600, 720, and 900 dpi. It can print on media up to 63.8 inches wide and up to 0.04 inches thick. Blue, magenta, yellow, and black dye sublimation inks are included.
Tx300P-1800 MkII
A machine capable of printing on transfer or direct-to-fabric, the Tx300P-1800 MkII enables the best of both worlds. It is perfect for on-demand production on almost any type of fabric. Three different inks are supported in dual-loaded combinations, including textile pigment/sublimation transfer, direct sublimation/sublimation transfer, or textile pigment/direct sublimation.
It features an easy to attach interchangeable vacuum platen that enables quick switching for almost any workflow. The high-head gap setting opens up more fabric types for thick or thin fabrics, such as woven or raised fiber fabrics.
A Nozzle Check Unit monitors performance and detects clogging automatically, while a Nozzle Recovery System (NRS) substitutes nozzles that become unproductive, preventing poor image quality and avoiding downtime.
Tiger-1800B Mk III
This high-speed production system prints at up to 4,144 ft2/hour. It is supplied with 10kg ink tanks for increased run times and lower running costs. The Mimaki Printer Controller is a touchscreen operation software that simplifies operation. The NRS is also included, as is Mimaki Advanced Pass System 4, which boosts print quality at high speeds and minimizes banding.
The Tiger-1800B Mk III also has an adhesive belt transport system that incorporates an in-line heat drying unit. It also includes belt washing technology. TxLink4 RIP software is included with the system and provides functions such as Parallel RIP for processing multiple print data. For apparel applications, it has a "variable print" function. The software's 16-bit rendering technology enables smoother and more aesthetic gradations.
Printing at 1,200 dpi, the system can print on media up to 74.8 inches wide and up to 0.04 inches thick. It is supplied with blue, magenta, yellow, black, light black, orange, and red reactive dye inks, as well as cyan, magenta, yellow, and black dye sublimation inks.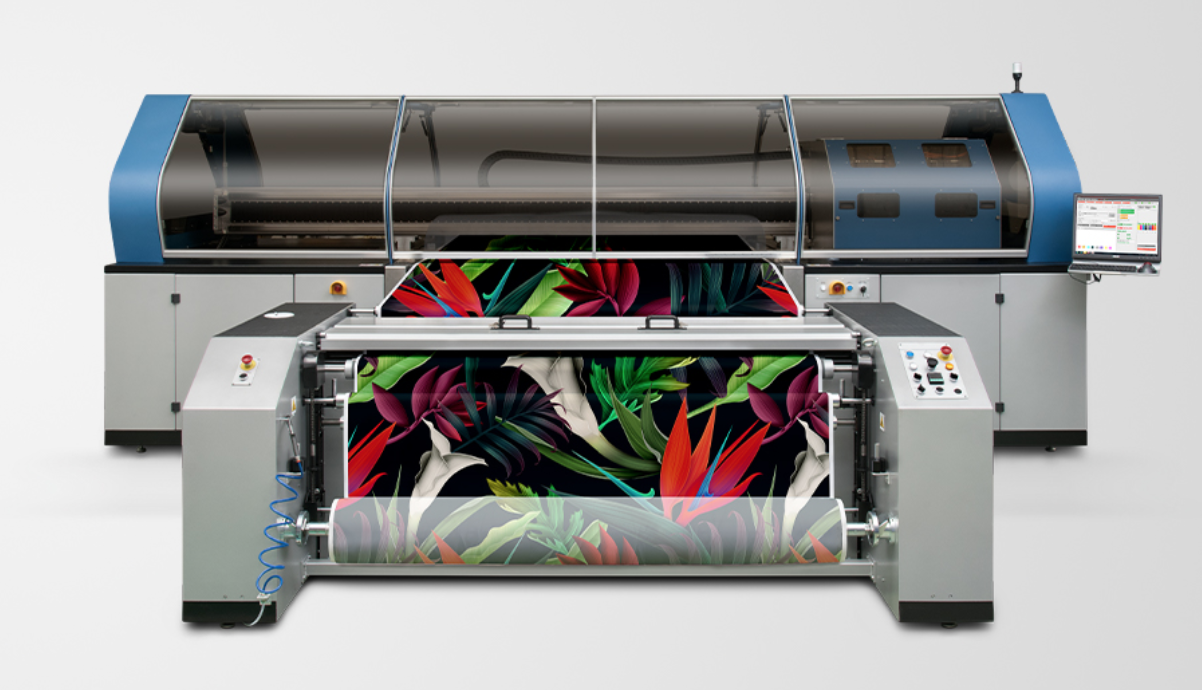 Order a Textile Ink Printer from Mimaki
Mimaki offers a full line of advanced textile and dye sublimation printers. Founded in 1975, our company has been a pioneer in wide-format inkjet printing technologies and workflow solutions. We can help you find high-quality textile ink printers that suit your needs, and we offer promotions and financing options that allow for more flexible purchasing options.
To learn more about our products and services, contact one of our dealer partners, request a call by submitting your info, or contact us directly at 888-530-3988 for immediate assistance.