Mimaki USA Introduces Latest DTF Printing Solution with the TxF300-75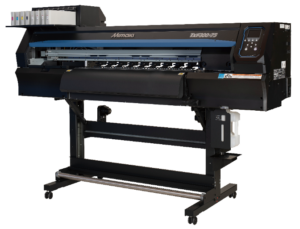 Revolutionary technology boosts productivity by approximately 300% 
Suwanee, GA, August 21, 2023 — Mimaki USA, a leading manufacturer of wide-format inkjet printers and cutters, is thrilled to announce the global debut of its latest innovation – the TxF300-75 direct-to-film printer. In response to the resounding success of the initial DTF printer offering, the TxF150-75, which debuted in April 2023, the market demanded increased efficiency. Driven by our commitment to deliver customer-centric solutions promptly, Mimaki USA is excited to introduce the TxF300-75 to address these amplified productivity needs.
With the addition of a second print head, the new TxF300-75 demonstrates an increase in productivity by 300% compared to the existing model. This latest launch underscores Mimaki's continued reliability and manufacturer support, further setting Mimaki apart as a leader in textile and apparel printing solutions. Embodying the same core functionalities as the TxF150-75, the TxF300-75 promises safe and stable operation while increasing productivity. Integral features for seamless operations include:
Implementation of the ink recirculation function, MCTv2, to prevent white ink instability.
Adoption of degassed ink through aluminum packaging.
Integration of Mimaki's NCU (Nozzle Check Unit) technology and NRS (Nozzle Recovery System), facilitating uninterrupted production.
ECO-PASSPORT certification, a requirement for OEKO-TEX® certification, minimizing environmental impact and fostering an eco-friendly workspace.
This DTF printing system enables intricate designs on an expansive range of fabrics, from cotton, mixed textiles, polyester, and even darker shades. The TxF300-75 will launch in late August 2023.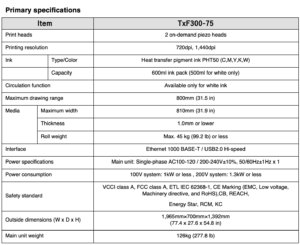 *Specifications, designs, dimensions, and other information stated in this list may be subject to change without notice due to technical improvement etc.
About Mimaki USA
Mimaki is an innovator and pioneer in the development of digital printing and cutting products worldwide. The company engineers and manufactures a complete line of digital printers and cutters and offers a total workflow solution for the many applications found in the Sign Graphics, Textile & Apparel, Industrial Printing, and 3D markets. In 2019, Mimaki USA celebrated 20 years of service to print service providers in the Americas. It is an operating entity of Mimaki Engineering of Japan. For more information, visit www.mimakiusa.com or on Facebook, Twitter, LinkedIn and Instagram @MimakiUSA.