Mimaki announces the launch of its first DTF printer, "TxF150-75" and heat transfer pigment ink for DTF, "PHT50" for textile and apparel printing applications.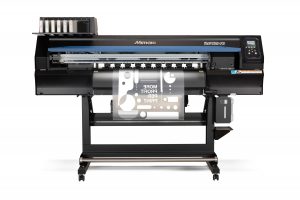 Suwanee, GA, March 7, 2023 — Mimaki USA, a leading manufacturer of wide-format inkjet printers and cutters, has developed its first direct-to-film (DTF) printer, "TxF150-75," and heat transfer pigment ink "PHT50" for DTF. Sales of these products, targeting textile and apparel printing applications, will begin in summer of 2023.
DTF printing is a method that has become widespread in the textile and apparel industry, particularly in the wearable printing market, often used in T-shirt printing. With DTF printing, the design is first printed directly on a unique transfer film; next, the printed film is sprinkled with hot-melt powder, which is then heated and dried to form a transferable ink layer on the film. The formed ink layer is transferred to the fabric by a heat press to complete the finished product.
The TxF150-75 is an inkjet printer with a maximum printing width of 80 cm (31.5") for producing DTF print transfer sheets. The new PHT50 heat transfer pigment ink made for DTF applications consists of five colors (CMYK and white), and is scheduled to obtain the ECO PASSPORT certification by the end of March 2023, which is essential for meeting the international safety standard for textile products "OEKO-TEX."
To overcome the ink ejection defects and white ink clogging that have plagued previous DTF printers, Mimaki has adopted a degassing ink design which employs aluminum packs to encase the ink, along with a white ink circulation function MCT (Mimaki Circulation Technology)*1. This new printer also features Mimaki's NCU (Nozzle Check Unit)*2 and NRS (Nozzle Recovery System)*3 technologies to  support stable operation. These features enable continuous printing and increased production.
Currently, silk screen printing is widely used in the wearables print market. This labor-intensive process requires the preparation of plates, making it unsuitable for small-lot production. Moreover, full-color printing involves time and labor to create plates for each color. An alternative heat transfer method using vinyl sheets is also commonly used, but it involves manual labor for "weeding," which is the process of manually removing unnecessary portions of the transfer before fixing the printed design on the fabric. In recent years, there has also been a growth in direct-to-garment (DTG) printing, which uses inkjet printers to print designs directly on garments and fabrics. DTG printing does not require plates and can be used for full-color printing, but it does require fabric pre-treatment and manual handling by the operator at each printing step.
DTF printing eliminates the need for plate preparation and weeding, which has proven difficult in conventional printing methods. Since it enables an unattended printing process operation, DTF is rapidly being adopted as a technology that reduces labor time and cost.
The TxF150-75 is scheduled for sale in summer 2023 and will include printers, inks, and RIP software.
Our recommended specifications for the film used to create the transfer sheet, hot-melt powder, powder application equipment, post-processing machines, and heat press transfer machines will be provided to customers at the time of sale.
With "something New, something Different" as our management vision, Mimaki Engineering will continue to pursue new technological innovations constantly and to realize the "beauty and speed" that our customers demand.
*1 Mimaki Circulation Technology: White ink circulation function
*2 Nozzle Check Unit: Missing nozzle detection function
*3 Nozzle Recovery System: A function to substitute missing nozzles with other nozzles.
Primary features
Eliminates "ink ejection defects" and "white ink clogging" to realize stable operation.
The printer features Mimaki's NCU (Nozzle Check Unit) and NRS (Nozzle Recovery System) technologies that support stable operation. In the event of nozzle problems, printing can be resumed without waiting for service personnel for the repair, allowing production to continue. In addition, the MCT (Mimaki Circulation Technology) function effectively suppresses pigment precipitation by periodically circulating white ink to prevent such problems as "white ink clogging," while the aluminum pack design for ink packaging and degassed ink design prevent "ink ejection defects" to realize stable printing.
Eco-friendly cartridge ink with aluminum pack design
NCU & NRS automatically detect missing nozzles to minimize downtime.
MCT (Mimaki Circulation Technology), a white ink circulation system for stable printing
ECO PASSPORT certified ink to ensure customer safety and security
All the ink colors are schedule to obtain ECO PASSPORT certification by the end of March, which is required to obtain OEKO-TEX®, an international safety standard that guarantees the safety of textile products. It reduces environmental impact and is also friendly to the customer's work environment.
Primary specifications
Item
TxF150-75
Print head
On-demand piezo head
Printing resolution
720dpi, 1,440dpi
Ink
Type/Color
Heat transfer pigment ink PHT50 (C,M,Y,K,W)
Capacity
600ml ink pack (500ml for white only)
Circulation function
Available only for white ink
Maximum drawing range
800mm (31.5 in)
Media
Maximum width
810mm (31.9 in)
Thickness
1.0mm or lower
Roll weight
Max. 45 kg (99.2 lb) or less
Interface
Ethernet 1000 BASE-T / USB2.0 Hi-speed
Power specifications
Main unit: Single-phase AC100-120 / 200-240V±10%, 50/60Hz±1Hz x 1
Power consumption
100V system: 1.44kW, 200V system: 1.92kW
Safety standard
VCCI class A, FCC class A, ETL IEC 62368-1, CE Marking (EMC, Low voltage, Machinery directive, and RoHS), CB, REACH, Energy Star, RCM, KC
External dimensions (W x D x H)
1,965mm×700mm×1,392mm (77.4 x 27.6 x 54.8 in)
Main unit weight
126kg (277.8 lb)
*Specifications, designs, dimensions, and other information stated in this list may be subject to change without notice due to technical improvement etc.
About Mimaki USA
Mimaki is an innovator and pioneer in the development of digital printing and cutting products worldwide. The company engineers and manufactures a complete line of digital printers and cutters and offers a total workflow solution for the many applications found in the Sign Graphics, Textile & Apparel, Industrial Printing, and 3D markets. In 2019, Mimaki USA celebrated 20 years of service to print service providers in the Americas. It is an operating entity of Mimaki Engineering of Japan. For more information, visit www.mimakiusa.com or on Facebook, Twitter, LinkedIn and Instagram @MimakiUSA.
###