Suwanee, GA, May 18th, 2022 – Mimaki USA, a leading manufacturer of wide-format inkjet printers and cutters, announces the release of the Pure Clear ink "MH-110PCL". Intended for use with the Mimaki 3DUJ-553 full color 3D printer. The new Pure Clear ink "MH-110PCL" will be available beginning May 2022.
Responding to customer demand, the newly developed pure clear ink "MH-110PCL" negates the yellowish tint evident in the previous "MH-100CL" clear ink, enabling more transparent modeling. The ink delivers truly clear output as intended by designers and architects, which is expected to be used in product design for home appliances and cosmetics and design mock-ups and verification for industrial products. It is also suitable for medical and architectural models requiring visualization to confirm internal structures.
As with the conventional "MH-100CL" clear ink, the pure clear "MH-110PCL" ink is not only limited to just clear output. It can also be combined with color inks (cyan, magenta, yellow and black) to reproduce translucent color effects. Accordingly, the Mimaki 3D printer "3DUJ-553," featuring the "full-color modeling capability with more than 10 million colors," allows for use in designs emphasizing a broader range of colors and visuals than ever before with the addition of the clear and translucent color expressions enabled by the transparent pure clear ink "MH-110PCL."
MH-110PCL will be available in 4.8 L capacity ink bottles.
FEATURES
Pure clear ink expressing glass/acrylic-like transparency
The noticeable yellowish tint of the conventional clear ink "MH-100CL" has been negated, allowing for the creation of more transparent modeled objects. Transparency is not lost even when the thickness of the modeling object is increased. Furthermore, designs with colored representation within transparent modeled objects are now represented with crisp expressions with MH-110PCL.
( Left: MH-100CL, Right: MH-110PCL)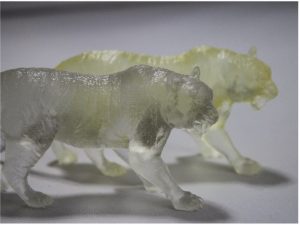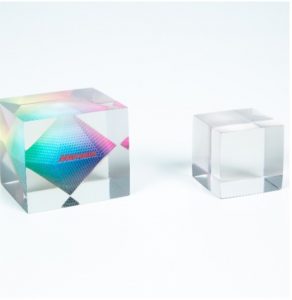 APPLICATIONS AND FIELDS OF USE
Possible applications for the combination of Mimaki UV-curable full-color 3D inkjet printer "3DUJ-553" and Pure Clear ink "MH-110PCL" include product design prototyping, medical and architectural fields, and 3DCG design modeling.
Product Design
MH-110PCL is ideal for expressing transparent parts required in product design and other fields. In addition to transparent expression using clear ink individually, translucent color (transparent with added color) output combining clear ink and color ink expands the range of design expression.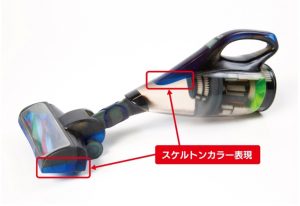 (Translation: Translucent color expression)
Medical Modeling
Full-color 3D printing is suitable for the creation of color-coded organ models. Translucent color (transparent with added color) expressions can also visualize the interior of organs, which is useful in practical medical models.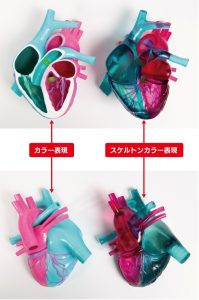 (Left Translation: Full Color Expression. Right Translation: Translucent color expression)
Architectural Modeling
Partial transparency, such as the representation of glass windows and transparent exteriors, is a convenient means of showing the internal structure of models. This effect is difficult to achieve with handcrafted models or plaster-based 3D printer outputs. Partial transparency can be applied to architectural models, combining the exterior and interior structures.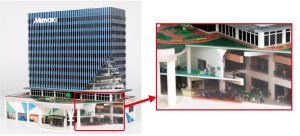 3DCG Design
In 3DCG design, transparent components are helpful in expressing objects aloft. Applications such as elaborate 3D designs encased in clear protective components are also feasible with MH-110PCL.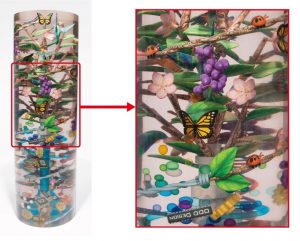 3DCG design* modeling sample
*3D data by Olaf Diegel of Creative Design and Additive Manufacturing Lab of University of Auckland
Supported printer
Pure Clear Ink "MH-110PCL" is only compatible with the Mimaki 3DUJ-553 full color 3D printer . For the initial installation of MH-110PCL, the optional product (OPT-J0510: PCL support kit) and the replacement by a Mimaki service personnel are required.
About Mimaki USA
Mimaki is an innovator and pioneer in the development of digital printing and cutting products worldwide. The company engineers and manufactures a complete line of digital printers and cutters, and offers a total workflow solution for the many applications found in the Sign Graphics, Textile & Apparel, Industrial Printing and 3D markets. In 2019, Mimaki USA celebrated 20 years of service to print service providers in the Americas. It is an operating entity of Mimaki Engineering of Japan. For more information, visit www.mimakiusa.com or on Facebook, Twitter, LinkedIn and Instagram @MimakiUSA.