Suwanee, GA, March 9, 2020 – Mimaki USA, a global industry leader of wide-format inkjet printers and cutters, announces the launch of the UJV100-160 roll-to-roll UV-LED printer to the Latin American market. 
The UJV100-160 asserts Mimaki's leadership in roll-to-roll UV-LED technology. With two newly developed print heads, the UJV100-160 provides high quality prints at high speeds, combining stability and productivity in a competitively priced unit. The UJV100-160 has a printing width of 64'' (1.610 m) and reaches speeds of 247 ft2/h (23 m2/h) in draft mode and 200 ft2/h (18.6 m2/h) in high speed mode. 
Equipped with UV-LED lights, the UJV100-160 delivers instantly cured prints, eliminating the drying time required by solvent or water-based ink technologies. Also, Mimaki's UV-LED inks provide additional opportunities for use on a wide variety of media, including paper, PET film, fabric, vinyl, and many more. This versatility allows the ability to use more cost-effective media, thus decreasing media costs, while increasing the end-user's portfolio and profits. 
Mimaki's Core Technologies strengthen the UJV100-160's print capabilities. The Nozzle Check Unit (NCU) detects the status of nozzles and immediately cleans any clogged nozzles. The Nozzle Recovery System (NRS) automatically replaces defective nozzles with operating nozzles to ensure uninterrupted printing and stable image quality. Mimaki Advanced Pass System (MAPS4) prints in gradation to reduce banding, uneven color and glossy streaks. A new feature included in the UJV100-160 is the Dot Adjustment System (DAS). Thanks to the DAS, conventional manual dot position correction and feeding amount correction are automated, reducing the burden on operations. 
Additionally, Mimaki introduces a new UV-curable ink, LUS-210, available in CMYK, White and Clear. The use of white ink enables superior concealing and print capabilities on clear, colored or metallic media. LUS-210 inks contain low volatile organic compounds (VOCs), making them environmentally friendly and reducing air pollution in indoor environments.
Availability
The UJV100-160 printer will be available in the second quarter of 2020, from authorized Mimaki distributors in Latin America.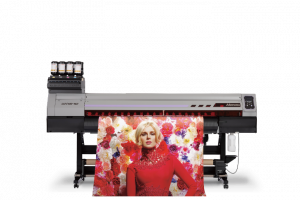 Clear ink will be available at a later date. 
About Mimaki USA
Mimaki is an innovator and pioneer in the development of digital printing and cutting products worldwide. The company engineers and manufactures a complete line of digital printers and cutters and offers a total workflow solution for the many applications found in the Sign Graphics, Textile & Apparel, Industrial Printing and 3D markets. In 2019, Mimaki USA celebrated 20 years of service to print service providers in the Americas. It is an operating entity of Mimaki Engineering of Japan. For more information, visit www.mimakiusa.com or on Facebook, Twitter, LinkedIn and Instagram @MimakiUSA and @MimakiLATAM.
###