When it comes to digital printing, there are various media options to choose from. Are you printing a banner, flyer, book, poster, vehicle wrap,  or even printing on clothing? Your projects may vary in scope from one to another. Yet no matter what you are printing, you'll need to consider the appropriate medium. Here, we will cover various attributes and properties to consider when selecting a medium for print projects.
Color
Color affects the impact of your design. It helps communicate your message and represent your brand as well as attract attention and invoke certain moods. Color itself isn't a medium, but color options can influence the best medium for your project. For example, if you're using denser color and require more detail, it is best displayed using coated paper.
Ink
The type of ink can impact the quality of the print job. Color inks typically yield vibrant colors, but they can fade in sunlight. Pigment inks are more durable and produce a cleaner final product.
Mimaki's UV-LED inks include rigid, flexible, and thermoforming inks to accommodate different projects. These inks cure instantly on coated and uncoated surfaces and can be layered to create dimensional effects. They're also resistant to smearing and offer sharp contrast and superior light reflection.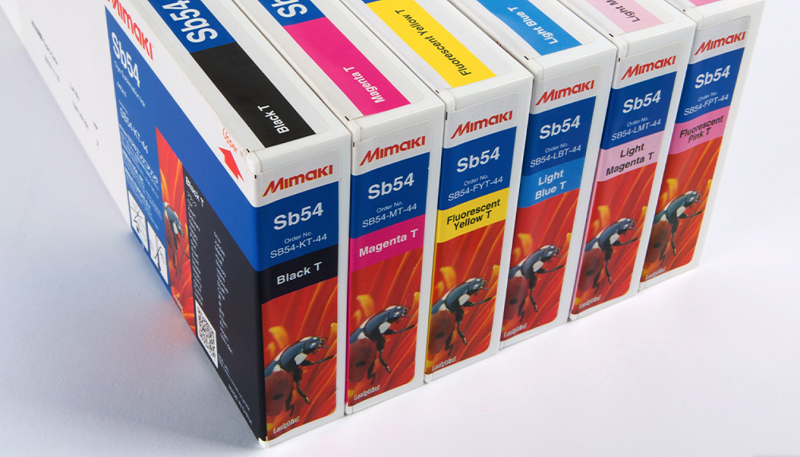 Medium
When selecting a medium for print projects, these are some media options you can consider, depending on your project:
Paper
Paper is a common print medium and is suited for signs, flyers, brochures, envelopes, business cards, posters, banners, and many other printed products. When printing on paper, consider these variables:
Weight: The weight of a paper is measured in pounds (i.e, 20#, 70#, or 120#). If the paper is too light, the image may not look as professional, but this depends on usage; paper that's too heavy for the application can produce negative results.
Thickness: Paper thickness (expressed in points or pt) refers to how many hundredths of an inch thick a single sheet is. For example, 10pt paper is 0.01 inches thick and is suited for text. Business cards can be anywhere from 12pt to 24pt. Thicker paper is better for die-cutting, foil stamping, embossing, and other printing processes.
Brightness: Paper brightness is measured on a scale of 1 to 100 using a special blue light. Generally, the brighter the paper, the more readable the image and accurate and vibrant the ink.
Opacity: Opacity measures transparency. If nothing shows on the other side, the paper is 100% opaque. If everything is visible on the opposite side, it's 0% opaque.
Coating: Coatings cover the spaces between paper fibers, smoothing out the surface and preventing ink absorption, resulting in sharper images. When selecting a medium for print projects, you can choose from gloss, matte, dull, aqueous, ultraviolet, soft-touch, and varnish coatings. By contrast, uncoated paper absorbs more ink and is easier to write on.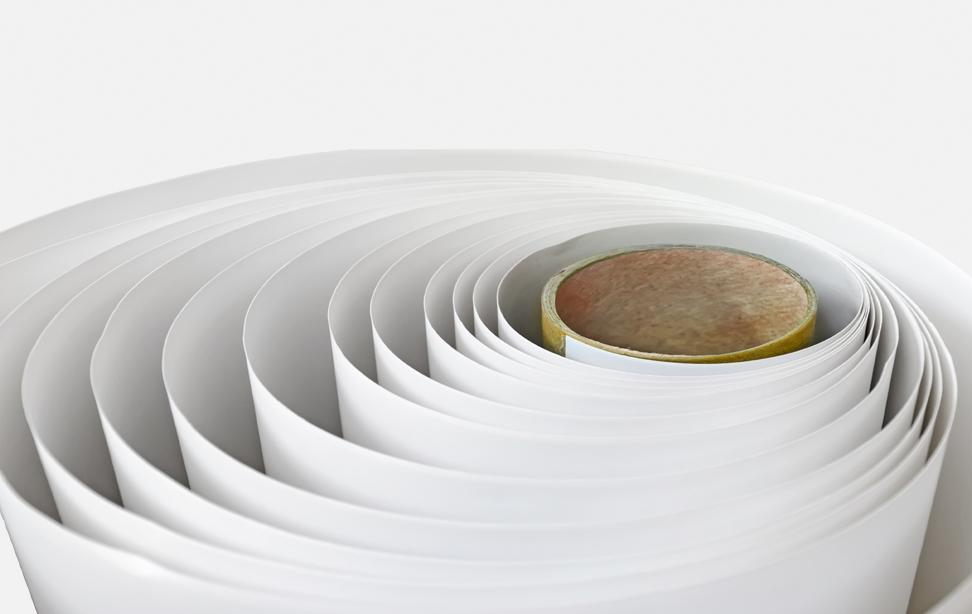 Vinyl
Vinyl is great for signs and banners and is quite versatile. The different types of vinyl vary by ink compatibility and film properties. The options include:
Calendared Vinyl: Essentially a squeezed mass of PVC, it is suited for flat surfaces or simple curves for outdoor signage.
Cast Vinyl: Created with liquid PVC and plasticizers, it's a thick layer that's highly stable and suited for vehicle wraps.
Ultra Calendared: This is most often used for flat or moderately curved vehicle wraps.
Mesh Vinyl: This is waterproof, fade-resistant, and breathable, making it suited for outdoor banners.
Adhesive Vinyl: This is used for banners that hang from a wall, window, or another smooth surface.
Fabric
Polyester fabric produces sharp, photo-quality colors. It is suited for banners and other advertising products created with dye-sublimation printing. The material is scratch-resistant but best suited for use indoors, as it's prone to ripping and tearing. Using fabric allows for direct to garment printing on t-shirts, polo shirts, sweatshirts, and bags. On a larger scale, fabric can be applied to roll-to-roll printing. Pigment, reactive, and acid dyes can be used with fabric in dye-sublimation printing applications.
Canvas
Duck canvas is a high-quality material that is wind resistant and provides an artistic look. It's thus used to replicate fine works of art; the semi-gloss finish makes images look hand-painted. The woven texture is aesthetically pleasing as well. High-resolution images appear clear and bright on canvas.
Acrylic
Used for signage and decor and in manufacturing and construction, acrylic is a durable, impact-resistant, and lightweight material. It is suited for direct print methods such as UV printing. Variants include clear acrylic sheets, extruded and sign-grade acrylic, and white or colored acrylic. Polycarbonate is related to acrylic and is even more resistant to impacts and cracking.
Glass
Printing on glass is often for decorative purposes, but applications range from architecture and interior design to automotive, commercial, and industrial uses. Glass is compatible with screen printing, digital UV printing, and digital ceramic glass printing techniques. While screen printing on glass is limited to four colors and UV methods lack functional inks and durability and scratch-resistance, digital ceramic printing affords unlimited design flexibility with more versatility. All methods yield high-quality images.  Note that there are also many media types available that can be easily applied to glass, thus greatly expanding the options.
Leather
Leather is highly durable and suited for a wide range of applications, including interior decor, furniture, clothing, phone cases, sports equipment, upholstery, and more. Often, UV ink bonds well with leather, avoiding cracking and peeling. Leather supports sophisticated graphics so your designs can be colorful and creative. Layers of white ink and clear gloss can be added to create any texture. Leather is even compatible with laser marking and engraving technology.
Select Media for Print Projects with Mimaki
At Mimaki, we provide a wide range of high-quality print media as well as UV-LED, eco-solvent, and water-based inks. We also have advanced printing systems and media for virtually any application and budget. If you need help choosing the right paper or print medium, use our interactive Create tool. You can also schedule a demo of chosen equipment or call 888-530-3988, and we'll answer your questions.