Sublimation printers are suited for business and personal use. They employ a heat transfer process to create high-quality, durable prints. Designs are transferred from sublimation paper to a material with pressure and heat. The ink is forced into pores in the material, which open when exposed to heat, while the pressure cools the ink that solidifies once embedded.
There are many types of sublimation printers. Here, we'll explain important factors so you know more about how to choose the best sublimation printer for heat transfer.
User Friendliness
Whether you're running a business or printing for a personal project, the features should be easy to use. This saves a great deal of time and frustration, while yielding more predictable results. It's also a benefit in terms of ergonomics, as materials may need to be loaded frequently over several hours.
The sublimation process is relatively simple, and Mimaki provides various models, including the entry-level, professional-grade TS100-1600. It lets you set resolutions and supports any size of print run. This and other dye sub systems we offer include user-friendly RIP software (RasterLink7) and, for advanced workflows, TxLink4 Lite.
Customized Objects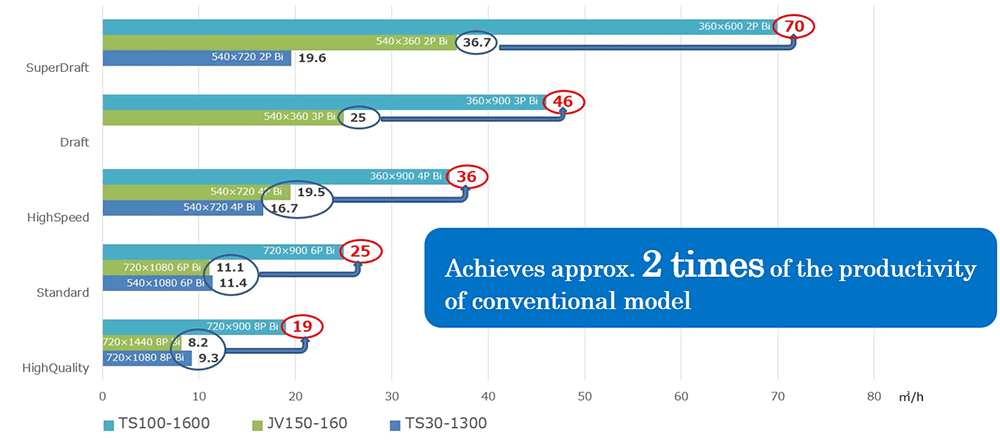 Know what material you want to print on. Dye sublimation is best suited for adding printed images to fabric, vinyl, or canvas. Some dye sub printers have extra wide formats. The Mimaki TS500P-3200 has a maximum media width of 129.9 inches. Many of our printers also work with ceramic, polymers, polyester-coated aluminum, and polymer-treated plastic, as well as glass, fiberglass, and other rigid materials.
Choose a printer based on the level of versatility that suits your application. Dye sublimation can be used for large banners, trade show displays, and signs, as well as mugs, t-shirts, mouse pads, snowboards, and cell phone cases. It can even be used for ceramic floor tile and other interior design elements.
Printing Speed
When you factor cost, purchasing a sublimation printer is an investment. Print speed should therefore be a key consideration in choosing a printer that matches your productivity goals, whether you need a few or thousands of sublimation transfers. Sometimes, the design sacrifices accuracy for speed, so it's important to do your research.
From our lower cost TX300P Series to the latest Tiger-1800B MkIII—which prints at up to 4,144 square feet/hour!—our systems deliver high speed printing, productivity, and quality, thanks to state-of-the-art technologies.
Accuracy

Printing on textiles and fabrics demands accuracy, as the job is repeated many times and product quality is essential. These items may be trimmed or cut, so it's important to control where the image goes. High-precision systems can produce sharp edges while minimizing the number of errors and maintaining high resolution.
Choosing Dye Sublimation Inks
Mimaki includes dye sublimation inks, reactive dye inks, textile pigment inks, and other ink options with our products. If you choose to purchase third-party inks, make sure they're suited for sublimation printing and are of high quality.
There are also various types of inks, so research what is best for your type of project. For example, the same ink used for textile may not produce the same results on hardware. Large-format printers often use aqueous sublimation ink dyes, while wider-head printers may use solvent-type dyes.
Why Mimaki Sublimation Printers Are the Best
Our printing systems incorporate state-of-the-art hardware and technologies, such as Variable Dot Technology, the Mimaki Advanced Pass System, and Waveform Control. Many of our products accommodate multiple ink types to support a greater number of applications. We also include the latest RIP software for maximum control and versatility. To learn more about our dye sublimation printers and receive assistance choosing one for your business or personal application, call 888-530-3988 today!