Printers that use the dye sublimation process can produce any type of design in vivid detail. Most people are familiar with how an inkjet printer works, which is relatively simple. A dye sublimation printer differs in that it applies heat and pressure to vaporize ink and embed it into the printed material.
Mimaki's dye sublimation printers are suited for creating banners, signs, and other promotional materials, as well as decorating various types of products. The print is also extremely durable. It won't crack, peel, or fade and can even be washed repeatedly without degradation.
How Sublimation Printing Works
Sublimation is when a solid material is heated, but, instead of becoming a liquid, it goes directly to the gas phase. At first, it may not seem like this would apply to printing. That is until you understand how dye sublimation printers work.
Ink is stored in a sublimation printer as a liquid, and it becomes a solid once it is printed onto transfer paper and dries. To transfer a design, the paper is heated to a temperature between 350℉ and 450℉, at which point the ink turns into a gaseous state. During the transfer process, a special transfer paper with the solid ink is pressed against the medium, such as a fabric, ceramic, or polymer material.
High heat and pressure disperses the ink into the porous material. This differs from an inkjet printer in which liquid ink solidifies on top of the printed media. During the dye sublimation printing process, the design is printed onto the transfer paper first, and then delivered to the print medium. When the process is complete, the ink is solid and forms a permanent image.
Here's a closer look at the basic steps of the dye sublimation process:
Graphics are selected or created using RIP software and combined into a master layout file. For example, if you're creating athletic jerseys, the master layout will contain graphics for each part of the garment; the jerseys will then be sewn together after printing is complete.
The file is transferred to the printer, which applies the sublimation ink and selected image to the transfer paper. The transfer paper is contained in a large ream inside the printing machine.
The paper is positioned to face the print medium—for example, a bolt of polyester fabric—and both are fed into the heat press or roller.
Ink is heated so fast that it instantly evaporates. This forces the pores of the textile or another material to open for just a short time.
Once the heat is turned off, the pores in the fabric close, permanently capturing the ink that's now a solid. As a result, there is little or no fading over time.
Why Is the Dye Sublimation Process Important?
When using dye sublimation, you can achieve high-quality prints on synthetic fabrics like polyester. It works on items like t-shirts and athletic apparel, trade show banners, floor mats, shower curtains, coffee mugs, mouse pads, cell phone cases, etc. Ink can also be sublimated onto tiles, glass, or polyester-coated aluminum.
Dye sublimation also excels in:
Quality: The dye sublimation process continuously blends all colors and processes them all at once, creating a seamless image.
Longevity: Ink is embedded throughout the substrate, so it will last longer than traditional inks and is waterproof.
Accuracy: Vaporization is more effective at yielding accurate prints; the high heat and coating process also make it highly unlikely for ink to smudge.
Reasons to Use Mimaki for Dye Sublimation
Mimaki's dye sublimation printers offer exceptional performance. Our specialized equipment includes the entry-level, yet professional-grade, TS100-1600. This affordable sublimation roll-based printer can produce realistic graphics and support any sized production run. Featuring blue, magenta, yellow, and black sublimation ink colors, it can print at speeds up to 753 square feet per hour at resolutions of 360, 600, 720, or 900 dpi.
Our high-end, high-volume dye-sublimation printer, the TS55-1800, can incorporate 4-, 6-, and 8-color ink configurations. Color options include yellow and fluorescent pink. The system is capable of unattended continuous printing at up to 1,453 square feet per hour. Its 10kg ink supply and extended heater options expand versatility, while safety and sustainability has earned its ink ECO PASSPORT by Okeo-Tex® certification.
Mimaki provides a range of other printers that employ the dye sublimation process. Depending on your needs, you can choose systems with high-speed printing, water-based sublimation, extra-wide formats, and coating, steaming, and washing capabilities.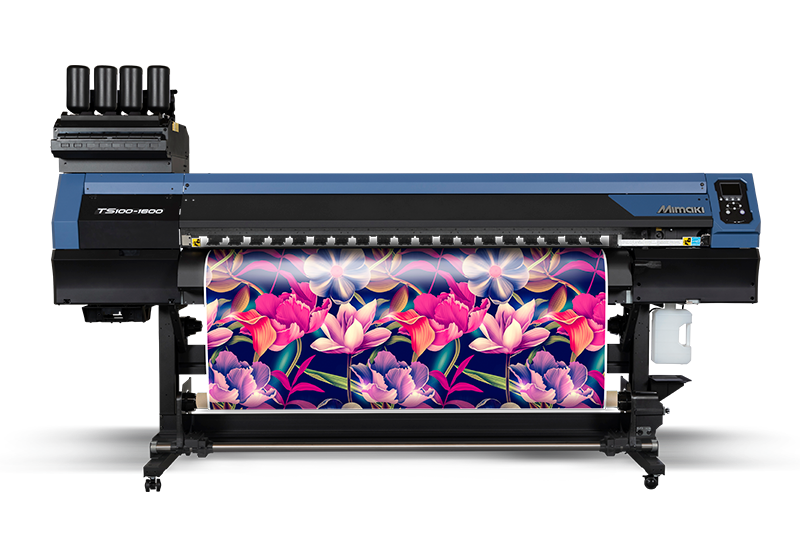 Order Mimaki Printing Equipment Today
Mimaki has been providing high-quality printing and workflow solutions since 1975. Our dye sublimation printers incorporate some of our core technologies, such as Waveform Control, Variable Dot Technology, Mimaki Fine Diffusion, the Nozzle Recovery System, and Mimaki Advanced Pass System. These allow us to deliver industry-leading print solutions supporting a wide range of applications.
We also offer product support and numerous resources to help you get the most out of Mimaki printers. Our customers can also take advantage of promos, trade-ins, and financing. To learn more and view our promotional offers, browse our product listings. If you have questions or would like to schedule a demo, feel free to contact us at 888-530-3988.