Suwanee, GA, May 25th, 2022 – Jefferson University fashion designers were challenged to formulate an environmentally conscious concept and produce two final looks utilizing Mimaki's digital printing technologies. Jefferson designers presented an array of outside the box sustainable solutions, from environmentally conscious materials, to fully transformable, zero-waste, and reversable garments. Bringing eco-conscious thought to the core of textile printing and fashion production.
Some of the special highlights were Kinley Lingenfelter, senior fashion designer, who sees the future of fashion as sustainable, fully transformable garments. For the competition, Kinley created a jacket, which can be worn at 4 sleeve lengths and 3 full lengths, as well as pants that can transform into a multitude of different top options. Mimaki's dye sublimation TS100-1600 and TX300P-1800 direct-to-fabric print technologies were used to materialize Kinley's prints on recycled polyester sateen and organic cotton.
Malacia Clark-Nedd, junior fashion designer, taking inspiration from the life and landscapes of the forest created two bright, summery looks. Playing with color and scale, Malacia, created large abstract prints, with carefully engineered placement in her garment pieces. Another junior designer, Stefauni Saldana, created looks taking inspiration from Fabian Marcaccio and the unique shape of tree roots. Using her collage artwork of magazine strips, glue, paint, and other textural materials to create digital prints. Both designers utilized Mimaki's Tiger-1800B MKIII direct-to-fabric printer with reactive inks on organic cotton.
Mahdiya Trudeau-Williams, senior fashion design student, focused on zero-waste construction. Garments featuring large rectangular pieces cinched together to create new interesting, transformable shapes. Mahdiya used acid inks printed directly onto silk charmeuse with the TX300P-1800B printer.
MS International Fashion Design Management student, Meitong Yan, created bright and colorful silk/organic cotton garments that were fully reversable. Meitong used CLO, a 3D fashion design software, to construct her uniquely shaped dresses. Mimaki's TX300P-1800 with reactive inks were used.
Senior fashion designer, Bri MacFarland, explored the print concepts of environmental natural disasters and seasonless dressing. Featuring prints with photographic effects and elements using dye sublimation printing onto recycled polyester sateen and Lycra.
Design competition winner, Stanislava Norets, sophomore fashion designer, utilized advanced pattern making techniques to create her winning looks. Her concept involving memories and folklore was showcased in whimsical colorful prints. Her first look was printed with reactive inks direct to silk/organic cotton with the TX300P-1800. A second look was fabricated with recycled polyester Lycra and sateen utilizing Mimaki's TS100-1600 dye sublimation transfer technology. She was awarded a $1,000 gift card by Mimaki USA for her winning pieces.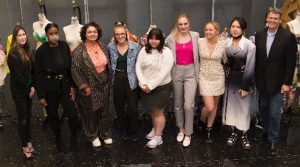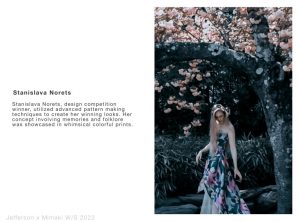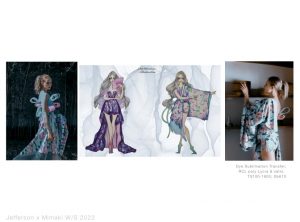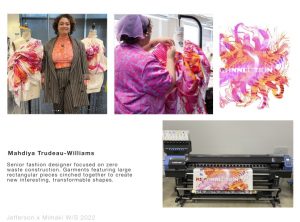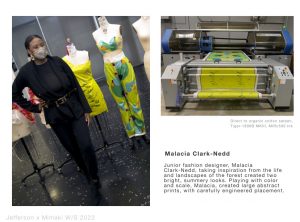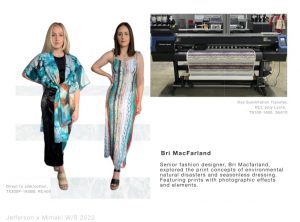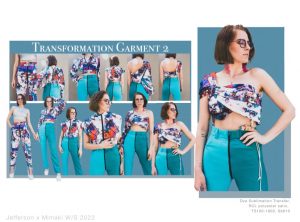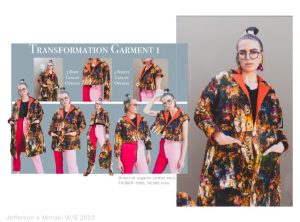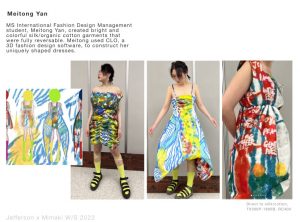 Check out the complete lookbook here: https://youtu.be/pc2FCj5ZsUw
About Mimaki USA
Mimaki is an innovator and pioneer in the development of digital printing and cutting products worldwide. The company engineers and manufactures a complete line of digital printers and cutters, and offers a total workflow solution for the many applications found in the Sign Graphics, Textile & Apparel, Industrial Printing and 3D markets. In 2019, Mimaki USA celebrated 20 years of service to print service providers in the Americas. It is an operating entity of Mimaki Engineering of Japan. For more information, visit www.mimakiusa.com or on Facebook, Twitter, LinkedIn and Instagram @MimakiUSA.
MEDIA CONTACT:
Victoria Nelson Harris
C: 678-584-3355